Fence & Gate
Good fences make great neighbors.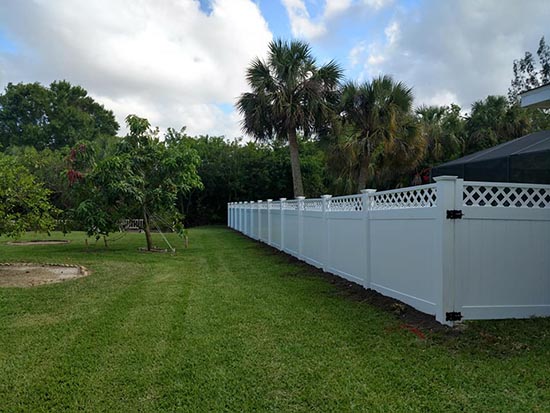 Vinyl and PVC
One of the biggest benefits of vinyl fencing is how little maintenance it requires in order to look great for many years to come. While alternatives like wooden fences might need to be sanded down or repainted every six months, vinyl fences simply need to be hosed down or washed with a simple soap solution. For individuals who want the attractive look or benefits of fencing without the hassle, vinyl fencing is an obvious solution.
The primary disadvantage to installing a vinyl fence is that the initial estimate is greater than that of a traditional wood picket fence. Some styles of vinyl fencing may have mildew issues due to an exposure to moisture over time. Consumers who are using sprinklers in their yard should ensure that the water does not reach the fencing.
Vinyl and PVC Gates
Vinyl Gates will not warp bend or twist during normal operation which makes their operation easy over time. Vinyl gates come pre assembled and their hinges are adjustable.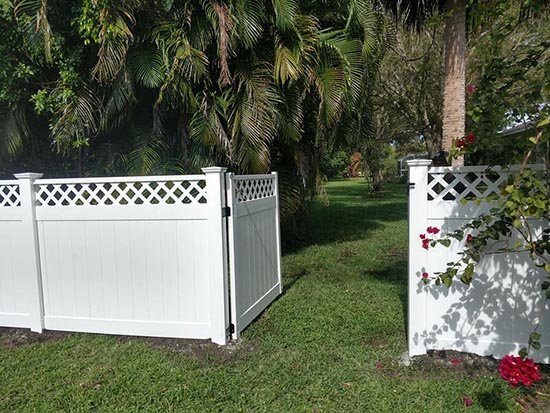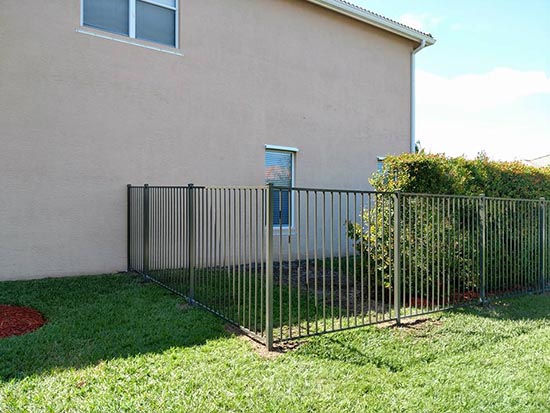 Aluminum Fence
Aluminum fences come in many styles and are ideal for damp, humid or ocean-side conditions. As a metal, aluminum resists corrosion and is not affected by sprinklers, lawn chemicals and many other residential factors. It is highly recommended to use aluminum for fences, especially when the project is within 10 miles of salt water. Aluminum fencing usually comes with a lifetime guarantee and requires little to no maintenance. It is easy to install, thanks to how lightweight it is. Aluminum fences come in a variety of styles due to the ease with which the metal can be shaped.
Aluminum fences are not recommended where very large dogs or rambunctious children may apply frequent or heavy pressure to the fence. They are also not recommended as security fences or barriers against insistent intrusion as the fence can be bent and broken with applied force. Aluminum fences also can develop a patina and may require some maintenance to continue to look like it did upon installation.
Aluminum Gate
Aluminum Gates will not sag warp twist or bend under normal operation.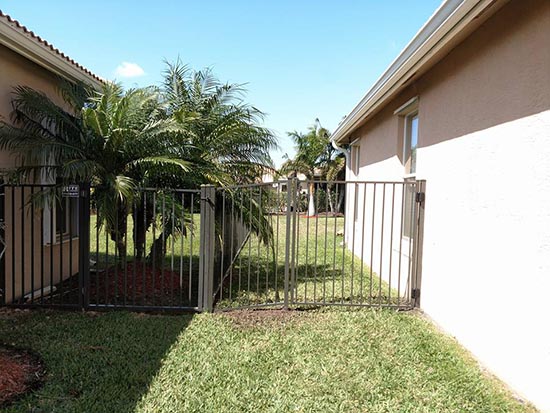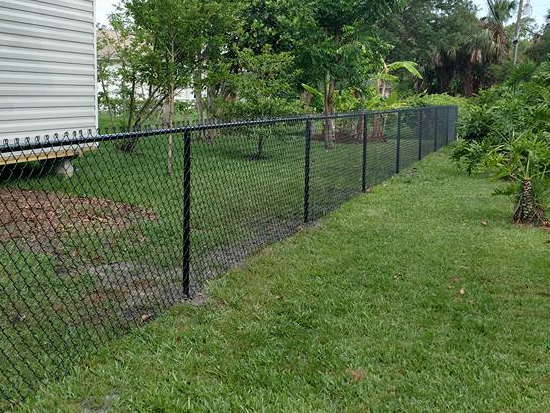 Chain Link
Chain Link comes in a variety of heights from 3 feet on up. It has several different finishes as well. There is commercial and residential grade steel as well. Chain link is versatile and a good choice for a budget minded customer who desires containment of pets or kids but still wants unobstructed views. It is also quick to install as the average size yard takes about two working days in average working conditions.
Chain Link Gate
They come as single gates or double drive gates. Installed properly they will provide years of trouble free operation.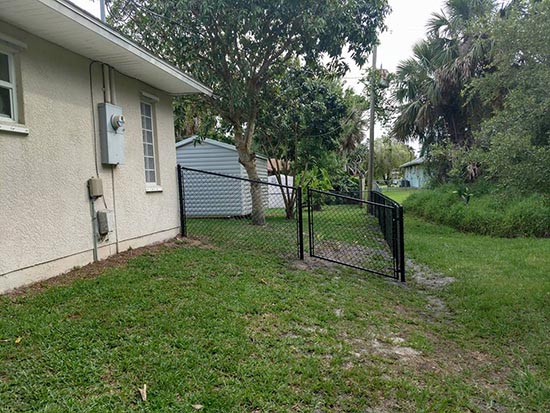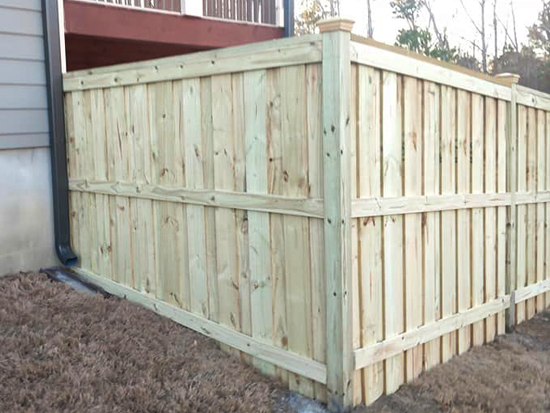 Wooden Fence
The most popular option. A properly installed wooden fence can easily last for over a decade with proper care and maintenance. It is also the most economical option for a Privacy fence. The most popular choice of wood is basic pressure treated pine material. Other choices are Western Red Cedar, Cypress, and Redwood. The availability of specialty wood varies by regions of the country but can be ordered. Wooden fence is also great when your yard has has hills or drop offs. Wood fences can be built to follow the coutour of the ground and still look great.
Wooden Gate
We start all of our wooden gates with a powder coated steel gate frame from Adjust A Gate. This give us a solid start. Wood gates can sag or warp over time and be difficult to operate but with the steel gate frame it limits how much warping or twisting it can do. The gate frame comes with a turnbuckle system that you can adjust as well if the gate starts to sag over time.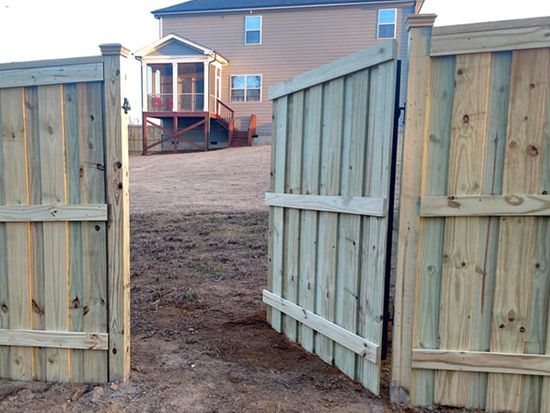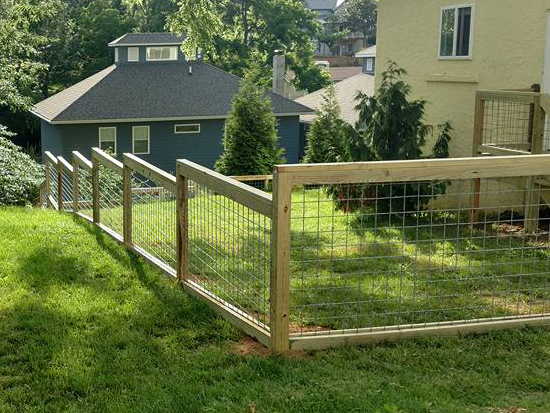 Feed Lot Panel
Feed lot panels are a great choice if you are looking to maintain your view. They are effective in containment of medium sized dogs and larger. The holes are 4x4 square. Its not likely that a small dog will get through but the possibility exists. Feed lot panels need to be cut to size with a grinder or some other type of metal cutting equipment. They can be cut with bolt cutters but that is very labor intensive.
Feed Lot Gate
Feed lot gates are a great compliment to feed lot panel fences. Over time the wood frame may warp over time due to the constant exposure to the elements.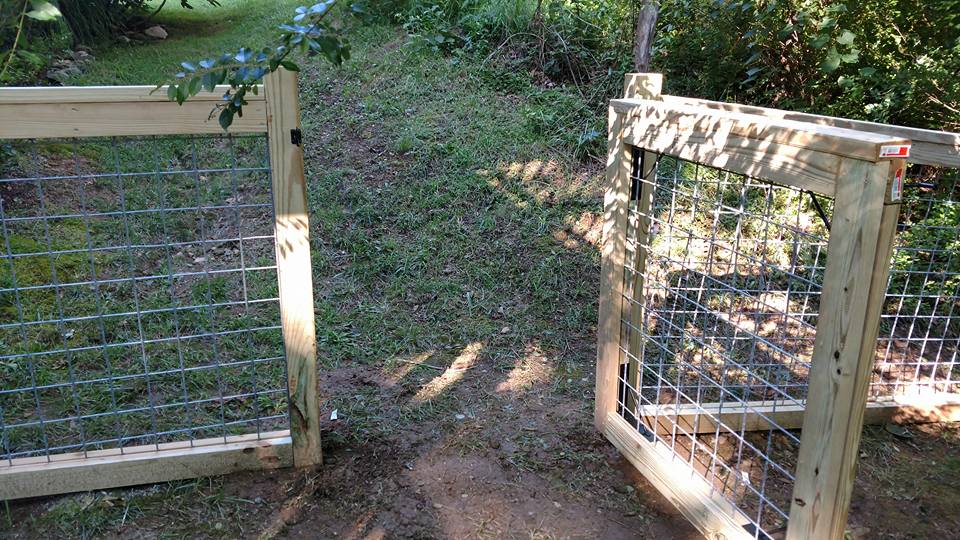 About SMITHERY
We sustain our company on reliability, great communication, integrity and attention to detail. We are American owned and operated, and strongly believe in giving our absolute best on all of our projects. With over 25 years experience, we are experts in our trade, and will always keep you educated on your particular task or project. Large to small, we do it all! Call today!
What We Do
SMITHERY provides: Chain link, Aluminum, Wood, Vinyl and PVC fence install and repair services. We also specialize in deck, porch, gazebo, and free-standing porch build and repair.
Service Areas
We provide service to the following cities in Florida: Melbourne, Vero Beach, Palm Bay, Cocoa, Titusville, Merritt Island, Sebastian, Orlando, Rockledge, Cocoa Beach, Fellsmere, Roseland, Winter Beach, Melbourne Beach, Satellite Beach, Scottsmoor, Mims, Sharpes, Patrick AFB, Indialantic, Wabasso, Cape Canaveral, Malabar
Contact SMITHERY
772-918-8468
9512 Honeysuckle Dr
Sebastian Fl 32976
Please Contact us for business hours.
SMITHERY Post & Plank Copyright 2018 All Rights Reserved
Brevard County 17-FE CT 00150. Indian River County #22931 # City of Sebastian #2283.