Wooden Decks & Porches
Expand your living spaces outdoors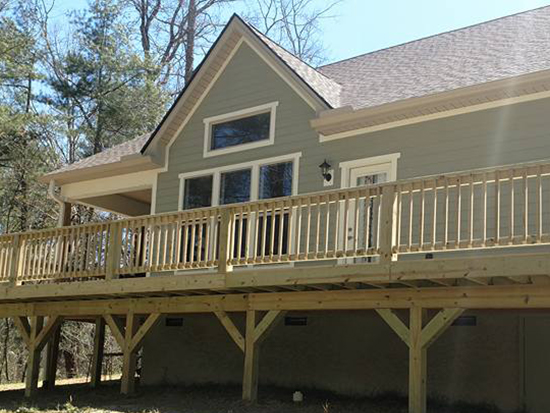 Observation Deck One
We built this deck for a Client in Arden NC. The Client was an Interior Engineer for BMW in Greenville SC so we knew every detail of the build would be closely examined. The house was less than one year old and the builder of the house added a small deck off the breakfast nook and installed a door in the master bedroom knowing that in the future a deck may be added. Thats where we came in. We built a 10x40 sun deck so the client could enjoy the outside space of his new home. That project had a big challenge. When we called 811 to locate all of the various utilities we were informed by AT&T that one of their major transmission lines ran underground in close proximity to where we had to dig the footers for his deck. It would have bee a violation of Federal Law if we dug before they came out and accessed the situation. Long story short the lines were not in our way and we built and awesome deck for our client.
Observation Deck Two
This deck was built for a customer in Asheville NC. They had a brand new Craftsman style house built in Trendy West Asheville. Soon after moving in they called on us to expand their small deck that was big enough for a grill and a couple of chairs. We added 200 square feet of deck to the existing 8x10 deck that was already there. We were also exact in our detail to make sure it didnt look added on as it was a brand new home. It looked like it had been there when the house was built. This deck was also engineered to support a 8 person hot tub. Although we understood what it took to support all that weight we hired a structural engineer to provide the proper documentation that the deck we built would support that weight. We also used the trendy feed lot panels to emulate the railing that was already there. The unique challenge on this project was, the day we started construction we had an 8 inch snow fall so we had to dig our lumber package out of the snow before we could start.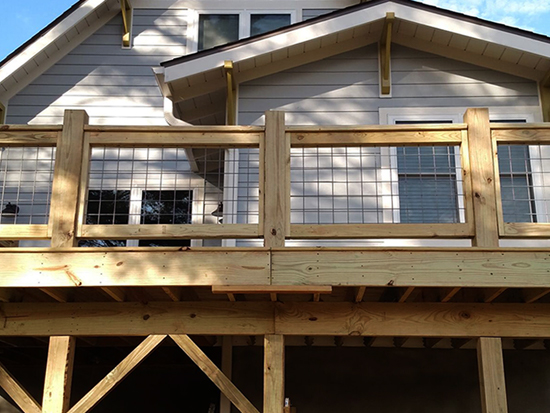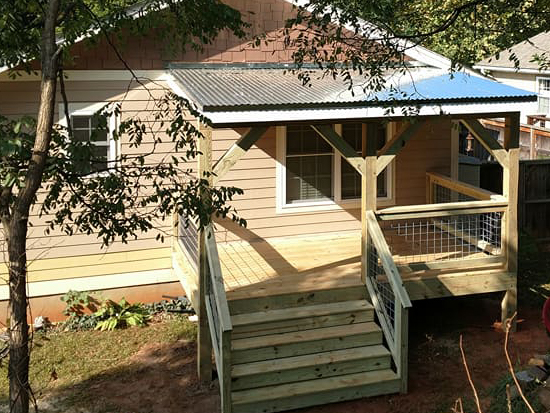 Porch One
This Client has a nice front deck but lives on a busy residential street. So enjoying his morning coffee wasn't that enjoyable. He hired us to build a deck around the back of the house off of the master bedroom. He also wanted to enjoy it on rainy days and have protection from the sun so we put a metal roof over the deck to make it a covered porch and expand his master suite to the outdoors. He was in the process of having a window and door company come out and remove the double window and replace it with French doors.
Porch Two
We built this porch in place of the original porch that was in a state of disrepair. The client was looking for an industrial craftsman look. I believe we achieved what they were looking for.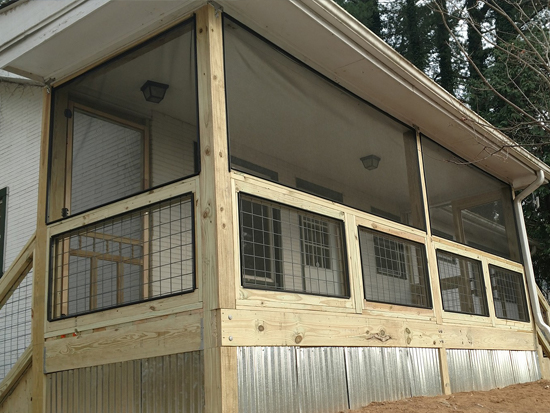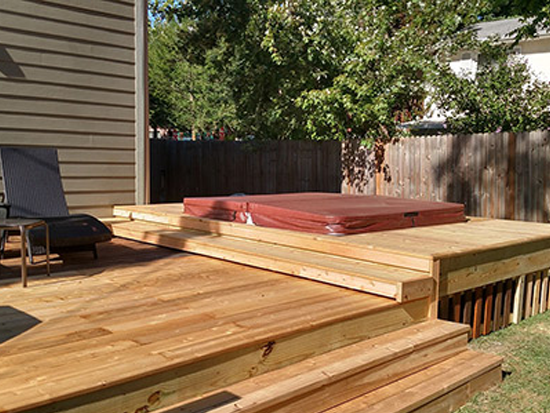 Entertainment Deck One
What's better than a nice cedar deck? An expanded cedar deck built around a hot tub. The clients on this job contacted us before they even closed on the house and hired us to extend the current deck to accommodate a table for outdoor entertaining and of course the new hot tub. Once the hot tub was delivered, centered, and leveled we got to work building a wrap around walk platform. On the back side of the hot tub wrap around we made the panel removable so the hot tub pump could be easily accessed if necessary.
Entertainment Deck Two
The only thing this client had in his back yard was a set of stairs to his sliding glass door. It was extremely difficult to let his three dogs out every day. We came in, removed the old stairs and built a new 10x24 foot elevated deck on the back of his house. We also made two of the bottom panels removable so they could store garden equipment under the deck. All of the round spindles you see had to be individually installed. A very tedious process but great looking when complete. We also built a set of custom stairs and closed them in so the dogs couldnt get under the deck. All of our stairs are custom made on site. We do not use pre cut stringers from the big box stores.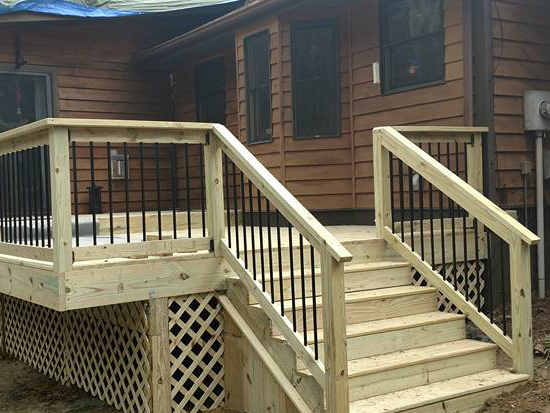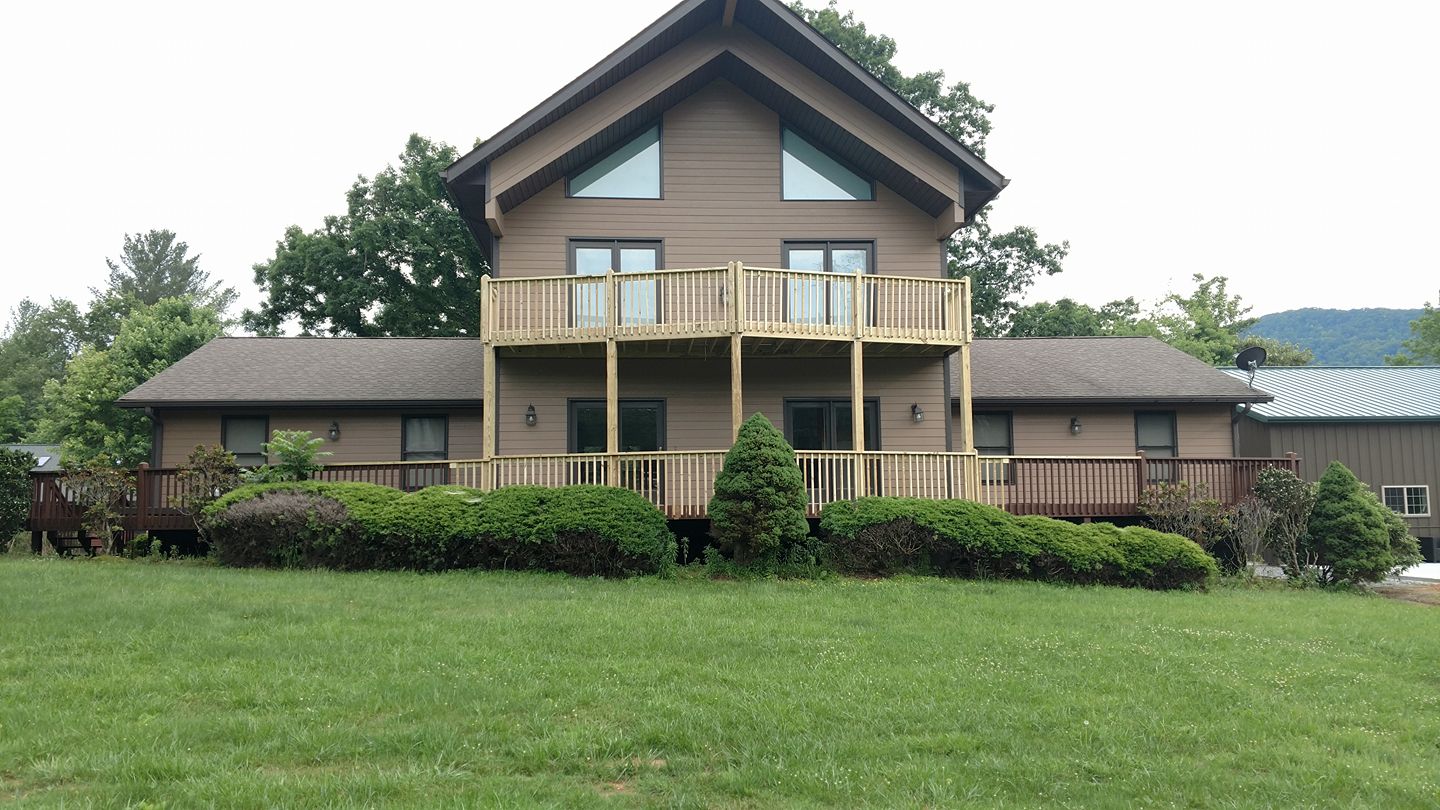 High Deck Balcony One
We were hired to build a mirror image upper deck on this home. The customer has a great room with vaulted ceilings and stairs to the loft where the master bedroom is. On the front wall when they built the house they installed french doors knowing someday the upper deck would be built. We will be going back to their house soon to build a bridge from the loft to a 3 foot wide catwalk in the great room so he can get to his second story deck. We can't wait! It's going to be a fun project.
High Deck Balcony Two
This was one of my favorite projects. It was on top of Balsam Mountain in Western North Carolina. This deck wrapped around the client's entire house. We used garapa decking that the client had imported from Brazil and we also used hidden fasteners for an amazing exotic finish. I thing the elevation was about 3500 feet and the views were incredible. There were two ways to access the property: the safe way, which took about 25 minutes and the 4x4 way, which took about 10 minutes. It was an intense ride to and from this job site every day.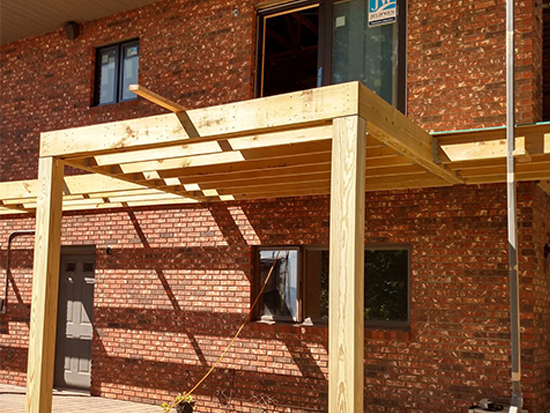 About SMITHERY
We sustain our company on reliability, great communication, integrity and attention to detail. We are American owned and operated, and strongly believe in giving our absolute best on all of our projects. With over 25 years experience, we are experts in our trade, and will always keep you educated on your particular task or project. Large to small, we do it all! Call today!
What We Do
SMITHERY provides: Chain link, Aluminum, Wood, Vinyl and PVC fence install and repair services. We also specialize in deck, porch, gazebo, and free-standing porch build and repair.
Service Areas
We provide service to the following cities in Florida: Melbourne, Vero Beach, Palm Bay, Cocoa, Titusville, Merritt Island, Sebastian, Orlando, Rockledge, Cocoa Beach, Fellsmere, Roseland, Winter Beach, Melbourne Beach, Satellite Beach, Scottsmoor, Mims, Sharpes, Patrick AFB, Indialantic, Wabasso, Cape Canaveral, Malabar
Contact SMITHERY
772-918-8468
9512 Honeysuckle Dr
Sebastian Fl 32976
Please Contact us for business hours.
SMITHERY Post & Plank Copyright 2018 All Rights Reserved
Brevard County 17-FE CT 00150. Indian River County #22931 # City of Sebastian #2283.