Maintaining Your White Vinyl Fence in Florida: Tips for Longevity
Published by: Smithery Post & Plank 09/15/2023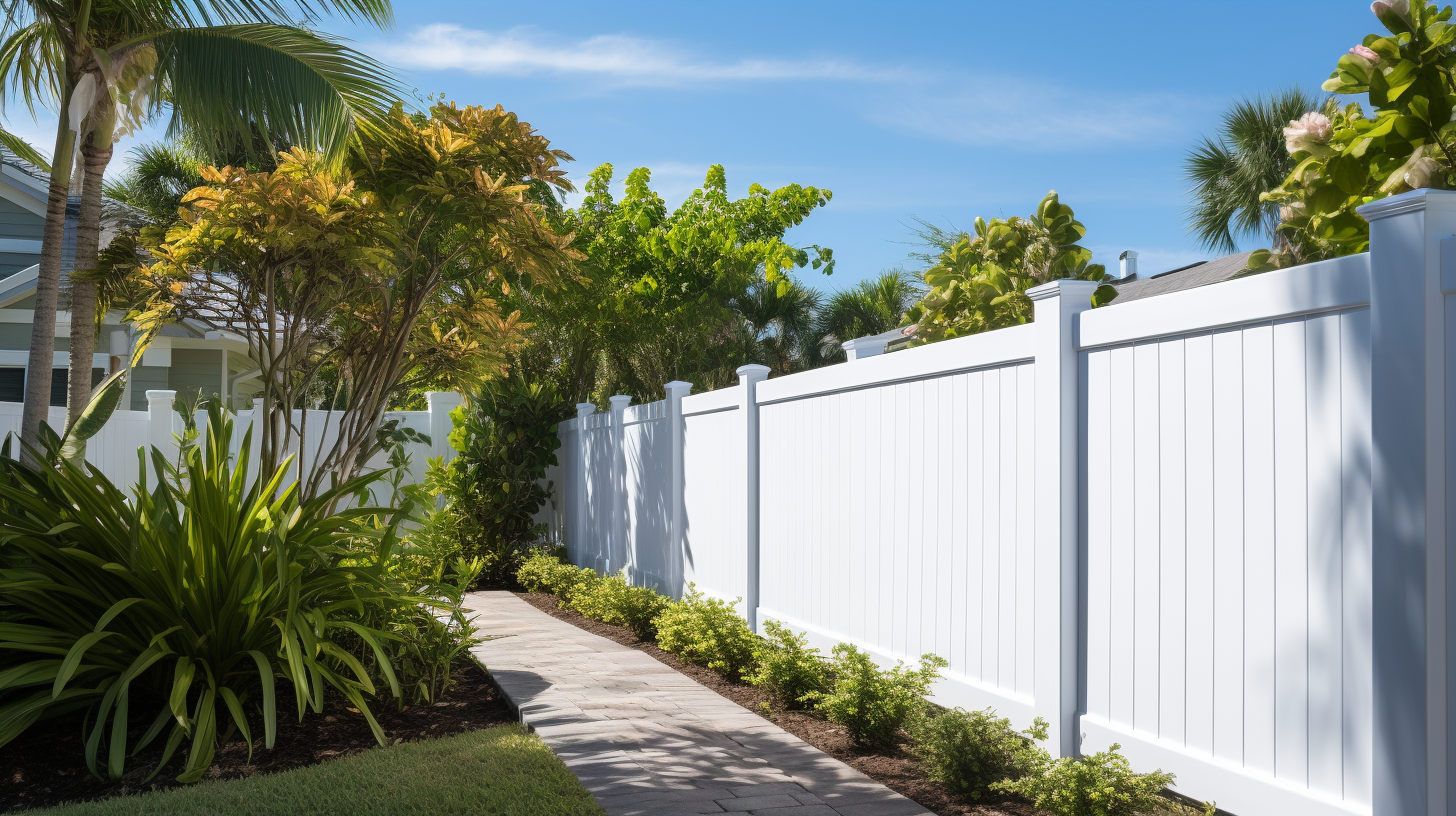 When you have a beautiful white vinyl fence in Florida, you want to keep it looking its best despite the hot and humid climate. Vinyl fencing is a popular choice in the Sunshine State due to its durability and resistance to the elements, but it still requires regular maintenance to ensure it stays pristine. In this article, we'll explore some essential tips for caring for your white vinyl fence in Florida.
1. Regular Cleaning
Cleaning your vinyl fence should be a routine task. Here's how to do it effectively:
Begin by hosing down your vinyl fence to remove loose dirt and debris. A garden hose with a nozzle attachment that creates a steady stream of water works best.

Mix a solution of mild dish soap or a vinyl fence cleaner with water. Using a soft-bristle brush, like a car-washing brush, scrub the fence gently. Avoid abrasive brushes or scouring pads that can scratch the vinyl.

Rinse the fence thoroughly with clean water to remove all soap residue.
2. Preventing Algae and Mold
Florida's humid climate can promote the growth of algae and mold on the fence. To prevent this, add a small amount of white vinegar to your cleaning solution. This can help inhibit the growth of these unwanted organisms.
3. Avoid Harsh Chemicals
Do not use strong chemicals, abrasive cleaners, or solvents on your vinyl fence, as they can damage the surface. Stick to mild detergents and cleaners to protect your fence.
4. Regular Inspections
Keep an eye out for any signs of damage, such as cracks, loose panels, or broken pieces. Address any issues promptly to prevent further damage.
5. Protection from Sunlight
Florida's intense sunlight can cause vinyl fencing to fade over time. To prevent this, consider applying a vinyl protectant or a UV-resistant coating. This can help maintain the fence's color and prevent it from becoming brittle.
6. Weed Control
Maintain the area around your fence by keeping it clear of weeds and overgrown vegetation. Weeds can grow through the fence or push against it, potentially causing damage.
7. Lubricate Hardware
If your vinyl fence has moving parts, such as gate hinges, periodically lubricate them with a silicone-based lubricant to ensure they function smoothly.
8. Consider Shade
Providing shade or a pergola over your vinyl fence can reduce its exposure to direct sunlight, which can help extend the life of the vinyl and maintain its color.
9. Secure Loose Panels
Florida experiences high winds and storms. After severe weather, check for loose or dislodged fence panels and secure them back in place to maintain the fence's integrity.
10. Trim Landscaping
Trim overhanging branches or shrubs that could rub against or damage your vinyl fence. Keeping the fence area clear from heavy vegetation will protect it from unnecessary wear and tear.
By following these care and maintenance tips, your white vinyl fence in Florida can remain in excellent condition, maintaining its appearance and durability despite the challenging climate. Regular cleaning and proactive maintenance will help preserve your investment and ensure your fence looks its best for years to come.
About SMITHERY
We sustain our company on reliability, great communication, integrity and attention to detail. We are American owned and operated, and strongly believe in giving our absolute best on all of our projects. With over 25 years experience, we are experts in our trade, and will always keep you educated on your particular task or project. Large to small, we do it all! Call today!
What We Do
SMITHERY provides: Chain link, Aluminum, Wood, Vinyl and PVC fence install and repair services. We also specialize in deck, porch, gazebo, and free-standing porch build and repair.
Service Areas
We provide service to the following cities in Florida: Melbourne, Vero Beach, Palm Bay, Cocoa, Titusville, Merritt Island, Sebastian, Orlando, Rockledge, Cocoa Beach, Fellsmere, Roseland, Winter Beach, Melbourne Beach, Satellite Beach, Scottsmoor, Mims, Sharpes, Patrick AFB, Indialantic, Wabasso, Cape Canaveral, Malabar
Contact SMITHERY
772-918-8468
9512 Honeysuckle Dr
Sebastian Fl 32976
Please Contact us for business hours.
SMITHERY Post & Plank Copyright 2018 All Rights Reserved
Brevard County 17-FE CT 00150. Indian River County #22931 # City of Sebastian #2283.