When to Stain Your Pine Wood Fence for Maximum Appeal and Longevity

Published by: Smithery Post & Plank 08/06/2023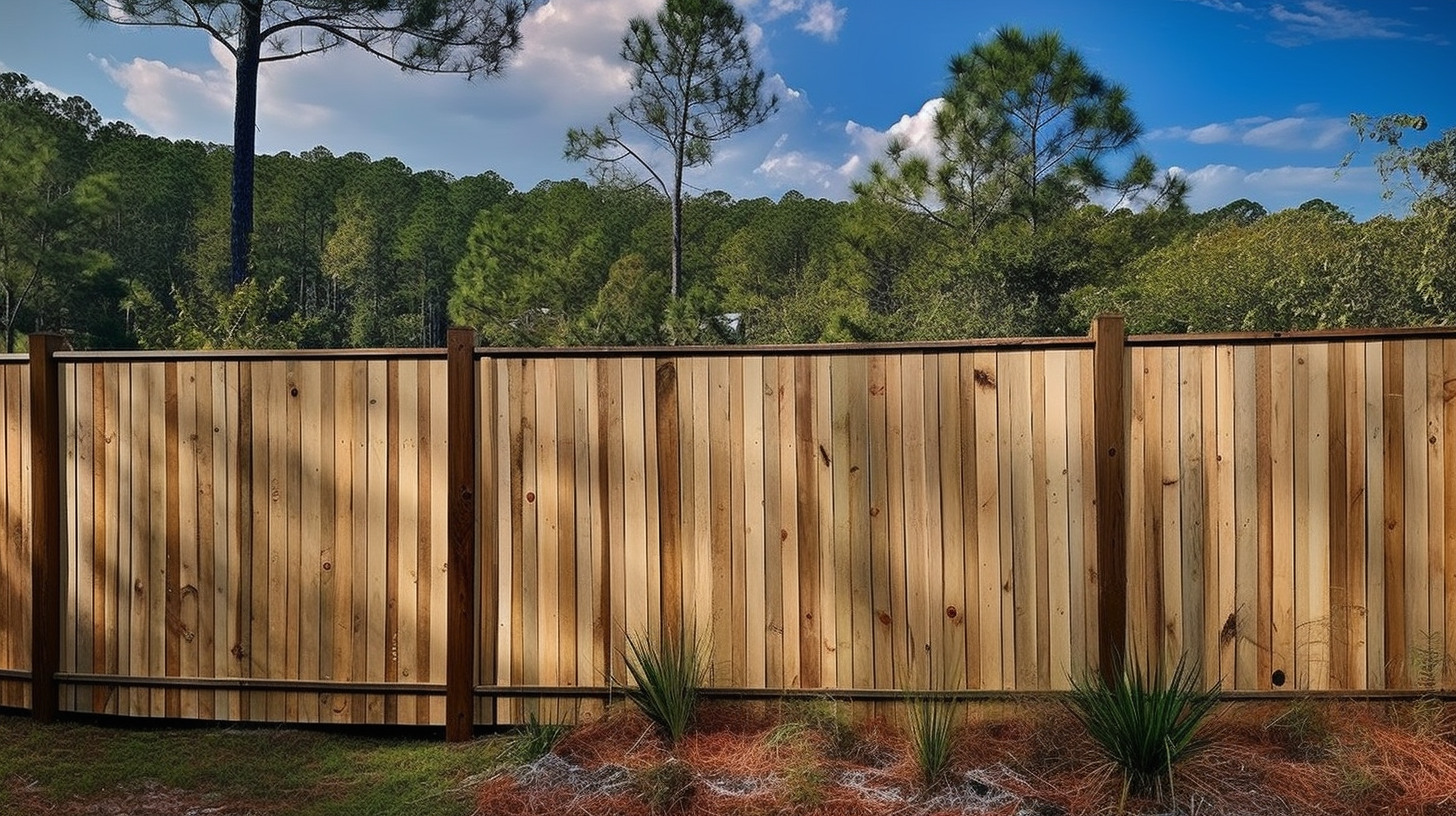 A pine wood fence is a classic choice that exudes rustic charm and natural elegance. Whether surrounding your property, defining garden boundaries, or providing privacy, a well-maintained pine wood fence can be a stunning addition to your outdoor space. In this article, we will explore the art of caring for your pine wood fence with a focus on the optimal timing for staining, ensuring its longevity and enhancing its visual appeal.
The Importance of Timing: When to Stain Your Pine Wood Fence
One of the most important aspects of caring for your pine wood fence is understanding the opportune moment to apply a stain. Staining offers a myriad of benefits, including enhanced protection against the elements and an infusion of color that complements your outdoor aesthetic. However, timing plays a vital role in achieving the best results.
Allowing the Wood to Settle
After the installation of your pine wood fence, it's essential to exercise patience. The wood needs time to acclimate to its new environment and settle. Typically, waiting for a few months is recommended before applying any type of finish, including stains. This waiting period allows the wood to release excess moisture and reduces the risk of the stain not adhering properly.
Optimal Weather Conditions
Selecting the right time of year to stain your pine wood fence is equally important. Favorable weather conditions contribute significantly to the success of the staining process. Ideally, choose a day with mild temperatures, moderate humidity, and minimal chances of rain. Staining during high humidity or rainy days can lead to uneven absorption and longer drying times.
Testing the Wood's Readiness
Before applying a stain, it's wise to test the wood's readiness. Conduct a simple water droplet test by sprinkling a few drops of water on the surface. If the water beads up, it's a sign that the wood is not yet ready for staining. Conversely, if the water is absorbed, the wood is likely prepared for the stain application.
Achieving the Desired Effect
When choosing a stain for your pine wood fence, consider the level of transparency or opacity you desire. Transparent stains allow the natural beauty of the wood grain to shine through, while semi-transparent and solid stains provide varying degrees of color coverage. Take time to select a stain that complements your outdoor surroundings and personal style.
Proper Application Techniques
Applying the stain correctly is just as important as selecting the right time to do so. Ensure the wood is clean, dry, and free from any dirt or debris before starting. Use even strokes to apply the stain, working in small sections to avoid overlap and streaking. Follow the manufacturer's instructions for drying and curing times to achieve optimal results.
Ongoing Maintenance
Once you've successfully stained your pine wood fence, regular maintenance is key. Periodically inspect the fence for signs of wear, fading, or peeling. Address any issues promptly by touching up the stain to prevent moisture from penetrating the wood.
Caring for a pine wood fence is a labor of love
By understanding the optimal timing and following proper application techniques, you can ensure that your pine wood fence remains a timeless centerpiece of your outdoor space, blending natural beauty with lasting protection.
About SMITHERY
We sustain our company on reliability, great communication, integrity and attention to detail. We are American owned and operated, and strongly believe in giving our absolute best on all of our projects. With over 25 years experience, we are experts in our trade, and will always keep you educated on your particular task or project. Large to small, we do it all! Call today!
What We Do
SMITHERY provides: Chain link, Aluminum, Wood, Vinyl and PVC fence install and repair services. We also specialize in deck, porch, gazebo, and free-standing porch build and repair.
Service Areas
We provide service to the following cities in Florida: Melbourne, Vero Beach, Palm Bay, Cocoa, Titusville, Merritt Island, Sebastian, Orlando, Rockledge, Cocoa Beach, Fellsmere, Roseland, Winter Beach, Melbourne Beach, Satellite Beach, Scottsmoor, Mims, Sharpes, Patrick AFB, Indialantic, Wabasso, Cape Canaveral, Malabar
Contact SMITHERY
772-918-8468
9512 Honeysuckle Dr
Sebastian Fl 32976
Please Contact us for business hours.
SMITHERY Post & Plank Copyright 2018 All Rights Reserved
Brevard County 17-FE CT 00150. Indian River County #22931 # City of Sebastian #2283.